Internationally acclaimed artists Set to Perform in El Barrio For Freedom CD Release Party!! Yomo Toro, Roy Brown, Zon del Barrio, Siete Nueve & The Welfare Poets take a musical stand for the Puerto Rican Political Prisoners. In an effort to raise funds for the remaining Puerto Rican political prisoners, The Puerto Rican Freedom Project celebrates the release of "The Freedom Album," a musical compilation featuring Boricua artists from the Island to the Diaspora. One of the Island's foremost political folk singer, Roy Brown will be on hand alongside the Fania music legend, Yomo Toro who will be joining East Harlem's own Zon del Barrio. Further, the concert will bring old and new school performers together with the strength of the politically conscious Hip Hop artists from P.R., "Siete Nueve" and New York's own The Welfare Poets, the socio-political hip hop fusion band spearheading this project. Scheduled for Thursday, October 1, 2009 at the Julia de Burgos Cultural Center located at 1680 Lexington Avenue (between 105 & 106 Sts), the event takes place at the Taller Boricua's Multi Arts Space on the first floor. Doors open @ 8 pm with a $20 admission. The Freedom Album will be on sale that evening.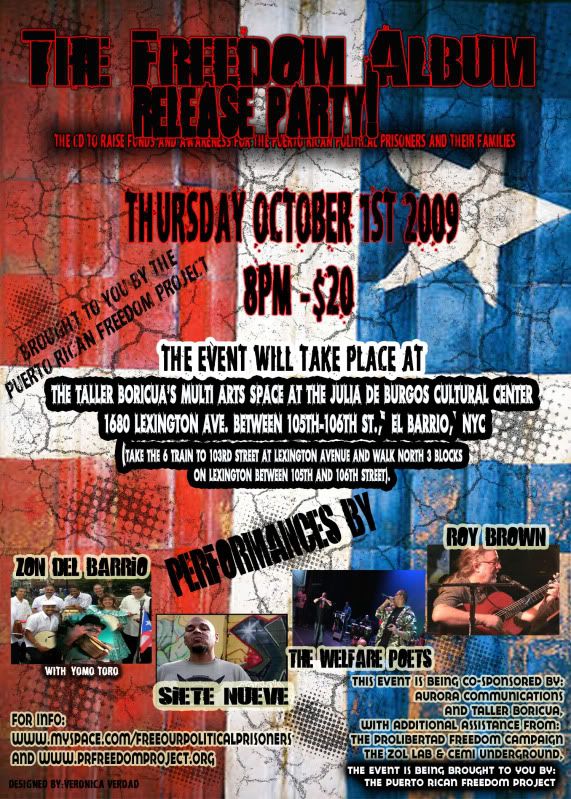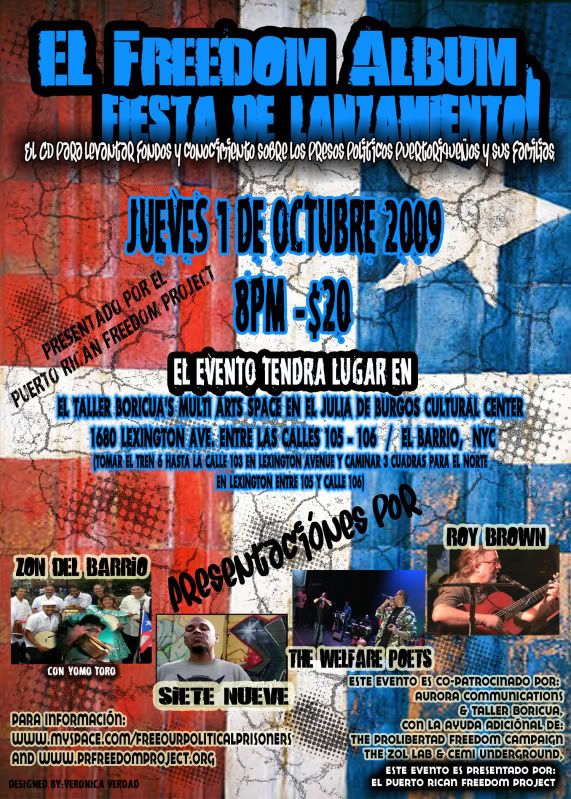 Buy Tickets Here - https://www.paypal.com/cgi-bin/webscr?cmd=_s-xclick&hosted_button_id=8215829
Artists appearing on the album: The Welfare Poets with Alkebulan (Hip Hop - NYC), Roy Brown (Folk – Puerto Rico), Siete Nueve (Hip Hop – Puerto Rico),Zon Del Barrio with Yomo Toro y Sammy Ayala (Bomba, Plena and Salsa - NYC), Division X (Hip Hop - NYC), Intifada (Hip Hop – Puerto Rico), Ilu Aye (Orisha/Afro-Caribbean tradition -NYC), X-Vandals (Hip Hop - NYC), Rebel Diaz with Divino of The D.E.Y. (Hip Hop Chicago/NYC), Ricanstruction (Hardcore/Punk/Hip Hop - NYC), Quique Cruz (Hip Hop - California), Foundation Movement (Boston – Hip Hop), Lourdez Perez (Decima – Puerto Rico), Homeboy Sandman (Hip Hop – NYC), Babalu Machete (Hip Hop – Puerto Rico), Segunda Quimbamba (Bomba – NJ), El David (Hip Hop - NJ), Dr. Loco (Hip Hop NYC), Fernando Ferrer (Salsa/Acoustic), Maria-Isa (Hip Hop Twin Cities), Velcro y Ikol Santiago (Hip Hop – Puerto Rico), Ray Concepcion y Cafe Con Leche (Salsa – the Bronx), M-Team (Hip Hop – Pittsburgh/ Brooklyn), Bryan Vargas Y Ya Esta (Latin, Nu-Jazz and Afro-beat – NYC), La Bruja (Hip Hop/Reggaeton NYC), MC Natra Y Lady M (Hip Hop – Vieques), Carlos Jimenez (Latin Jazz – NYC), Fallen Angelz (Hip Hop – NY and Florida), Nino Blanco (Hip Hop – NYC) and Angel Rodriguez (Guaguanco - NYC).